Who does she like better?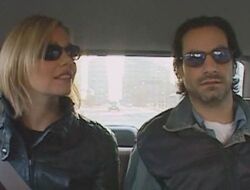 Winner    Kenny
Cheating?    Yes
Air Date    10/14/2003

Season One Episodes:
Who does she like better?

Who does she like better was the eighth episode of the first season of Kenny vs Spenny
Competition
Edit
For this competition, Kenny decided to cheat, as usual. Kenny went on the date first with the she, Kirsten. Kenny takes her to first aid training, a picnic and sushi, and charms her with all of his jokes. He then gets his friend, an actor, to pretend to be Spenny, but makes himself as repulsive as possible and then goes on the date with Kirsten, and takes her to the many places she wouldn't want to go. Kenny gets an actress, to play the she, and pretends to be called "Eloise". Spenny takes her for a walk around town, and gets someone to sing a song for her. When the competition has finished, Kirsten picks Kenny over the fake Spenny, and Eloise picks Kenny over the real Spenny.
Humiliation
Edit
Spenny has to dress in leather and be under the control of a male-transsexual-dominatrix. He got slapped on the ass while saying "woof woof" and being tied up with chains. Spenny seemed annoyed and just hoped that his parents didn't see the episode.
Kenny
Make a fake-Spenny, who is as repulsive as possible so Kenny is picked over "Spenny".
Take Kirsten on a first aid training date, to get as intimate as possible.
Charm Kirsten with his jokes.
Spenny
Get a man to sing a song about his date.
Take Eloise around town.
Kenny got actors/actress to play a repulsive fake-Spenny for Kirsten, and a fake-she for Spenny.