Who Can Stay Handcuffed the Longest?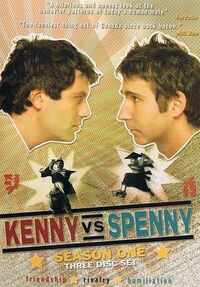 Winner    Kenny
Cheating?    No

Season One Episodes:
""Wolfish, shut the fuck up!"" — KennyWho can stay handcuffed the longest is the 13th episode in season one of Kenny vs. Spenny. Due to the vague title, it could be confused that they were handcuffed separately, when in fact one hand from each competitor is handcuffed to the other.
Competition
Edit
When Kenny and Spenny started, they originally were going to hit and annoy each other in an attempt to make the other submit, but eventually, they made a truce to not annoy each other, and they both agreed to only use mental warfare. After a while, Kenny brings Spenny to the airport to pick up David Wolfish, a man who Spenny owes $10000. Wolfish does annoy, however he also annoys Kenny, who is actually more annoyed then Spenny. Realizing his plan has failed, Kenny kicks Wolfish out of the house. Spenny then asks Kenny if he will come to a draw with him, and, winking at the camera, Kenny agrees. When Spenny unlocks himself, Kenny tells Spenny that he winked at the camera, meaning that he was not truthful of agreeing to a draw, and that he has won the challenge. Spenny is annoyed by this technicality, but he eventually accepts this.
Humiliation
Edit
Spenny is to put a fake herpes sore on his face, and attempt to pick up girls for a cup of coffee.
Kenny
An onion rubbed on his body and eaten, fish sauce, and fermented shrimp paste, to irk Spenny because of the smells.
Throws a birthday party for Spenny, one of his phobias.
Spenny
Earplugs, to resist Kenny's annoying noises.
Vapour lotion on his nose, to stop Kenny's smells
A Kazoo.
At points he relies mostly on willpower.
There is no cheating, though the winking part could be thought of as cheating.