The Papal Chase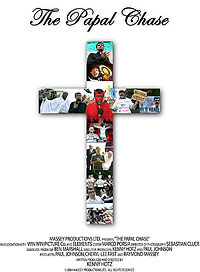 Written By    Kenny Hotz, Paul Johnson
Directed By
Kenny Hotz
Released    2004
Rating    E
Length    75 minutes

The Papal Chase is a Canadian feature-length guerrilla documentary created by and starring Kenny Hotz, of Kenny vs. Spenny fame.
The premise of this award winning documentary is that the Pope (Pope John Paul II) is visiting Canada, and Kenny Hotz's friend has bet him $1000 that Kenny can't meet him. The movie takes place over the course of six days in which Kenny attempts several times to meet the pope in order to win the bet. In his attempt to meet the man, Kenny does several things, including becoming a "Pope-arazzi", fighting his way through millions of pilgrims and onlookers, thousands of cops, security guards, Vatican Special Forces, precision snipers, the media and 2 million faithful. Over the 6-day period, Kenny becomes slightly catholicised, and searches not only for the Pope, but an understanding of God, and the way other people view God, religion, and spirituality in general.
The budget was just $800.
Sebastian Cluer was the head of cinematography.
The film won the best Canadian documentary award in 2004.
There are cameos by various members of The Rolling Stones in the film.
External links
Edit
The article is a Stub!
We need your help to make this page better, or we'll set Kenny's Kids on you!

Please expand the article as well as you can!