Jamie Tiernay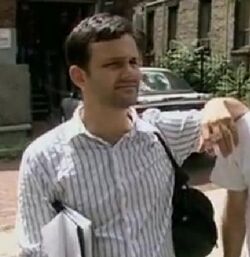 Years Active    2003 - 2010
Role    Unit Coordinator
Works with
Kenny Hotz

Jamie Tiernay was a member of the crew on Kenny vs. Spenny. He worked as a Unit Co-ordinator between 2003 and 2010. He was known to often support Kenny Hotz, such as terrorising Spencer Rice while wearing a gorilla costume during "Who Can Wear a Gorilla Suit the Longest?" - Spencer was under the impression that it was actually Kenny terrorising him.
During "Who Is Cooler?", Jamie appears alongside Brendan Michie, Kenny's sound guy, and the pair form "Kenny's Krew". When asked what he likes to do instead of jabbing a syringe of heroin into his cock, Jamie answered that he likes apples.
The article is a Stub!
We need your help to make this page better, or we'll set Kenny's Kids on you!

Please expand the article as well as you can!